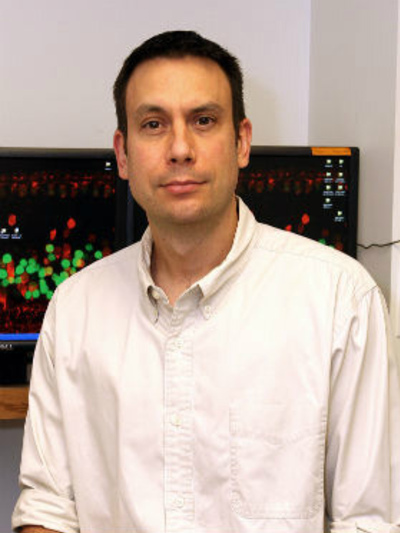 Andy Fischer, Ph.D.
Associate Professor, Dept. of Neuroscience
3020 Graves Hall
333 W. 10th Avenue
Columbus, OH
43210
Areas of Expertise
Molecular and Cellular Neuroscience
Education
PhD: University of Calgary
Postdoctoral Training: University of Washington, Dr. Thomas Reh
Current Research Description
In general terms, my lab studies neural development, regeneration, and survival.  In particular, we are focused on the development, regeneration and survival of cells in the neurosensory tissue of the eye, the retina.  We are studying retinal regeneration from neural stem cells and from the major support cells of the retina, the Müller glia.  The use of stem cells for neuron replacement and trophic support holds the potential to treat degenerative diseases of the central nervous system.  My work has demonstrated that the mature chicken retina contains a zone of neural stem cells at the peripheral edge of the retina that is capable of proliferating and generating neurons at increased rates with the application of growth factors.  In addition, I have demonstrated that mature Müller glia in the retina are capable of becoming neuron-producing retinal precursor cells in response to acute damage or growth factors.
Ongoing projects include following: (1) mechanisms that control the proliferation and differentiation of retinal stem cells, (2) mechanisms that regulate the maturation of the support cells of the retina, the Müller glia, (3) mechanisms that cause Müller glia to de-differentiate, proliferate, become retinal stem cells, and produce new neurons, (4) the ability of transplanted neural stem cells to promote the survival of mature retinal neurons, and (5) a novel method using ultrasound to transfer genes into primary neuronal cultures and in the intact retina.
People Filters: