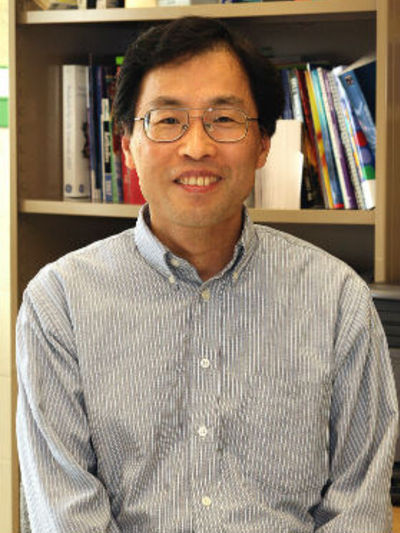 C.L. Glenn Lin, Ph.D.
Associate Professor, Dept. of Neuroscience
4130 Graves Hall
333 W. 10th Avenue
Columbus, OH
43210
Areas of Expertise
Molecular and Cellular Neuroscience
Education
PhD: The Johns Hopkins University
Postdoctoral Training: The Johns Hopkins University, Dr. Jeffrey D. Rothstein
Current Research Description
Glutamate is the predominant excitatory neurotransmitter in the mammalian central nervous system.  Glutamate is normally cleared from the synaptic cleft by high-affinity, sodium-dependent glutamate transporters located in both neurons and glia.  Glutamate transport malfunction can lead to the accumulation of excessive glutamate in the synapse, with subsequent neurotoxicity.  EAAT2, an astroglial glutamate transporter subtype, is the predominant glutamate transporter.  A loss of this protein has been found in the affected areas of amyotrophic lateral sclerosis (ALS) and Alzheimer's disease (AD).  What could account for the selective loss of EAAT2 protein in these neurodegenerative diseases?  We have recently identified multiple, highly abundant aberrant splicing EAAT2 transcripts from the affected areas of ALS/AD patients. Proteins translated from these aberrant mRNA species undergo rapid degradation and/or produce a dominant negative effect on normal EAAT2 resulting in loss of pro! tein and activity.  Aberrant RNA processing could be important in the pathogenesis of neurodegenerative disease.  We are currently pursuing following aims: 1) generation of transgenic mice expressing aberrant EAAT2 mRNA, 2) investigation of the mechanisms that account for the generation of aberrant EAAT2 mRNA species, and 3) development of a method to identify aberrant splicing transcripts to ask whether there are other genes also affected.
This lab is also actively investigating the molecular/cellular biology of glutamate transporters.  EAAC1 is the predominant neuronal glutamate transporter in the central nervous system.  Dysfunction of this transport subtype is associated with experimental models of absence epilepsy.  By means of a yeast two-hybrid system, an EAAC1-associated protein, GTRAP3-18, was identified.  GTRAP3-18 was found to negatively modulate EAAC1-mediated glutamate transport via a decrease of glutamate transport affinity.  We are currently pursuing following aims: 1) identification and characterization of GTRAP3-18 gene in order to understand regulation of this protein, 2) generation of transgenic mice overexpressing of GTRAP3-18 protein, and 3) generation of GTRAP3-18 knockout mice.
Other research projects developing in the lab include: 1) studies of DNA damage and DNA repair in neurodegenerative diseases and 2) identification of differential express genes in ALS.
People Filters: