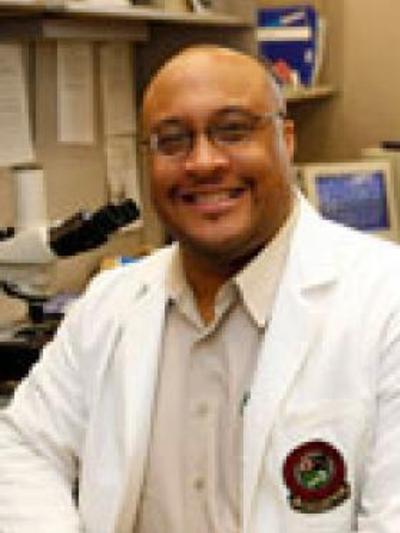 Robert Stephens Jr., Ph.D.
Associate Professor, Dept. of Physiology and Cell Biology
302 Hamilton Hall
1645 Neil Avenue
Columbus, OH
43210 
Education
PhD: The Ohio State University
Postdoctoral Training: University of California Los Angeles, Drs. Y Tache, D Novin, and H Weiner
Current Research Description
The control and management of chronic pain remains a formidable therapeutic challenge, leading Congress in 2001 to declare this the Decade of Pain Control and Research. Chronic pain conditions are estimated to affect 30% of the population in industrialized countries. There is a wide therapeutic gap between treatment of chronic pain with non-steroidal anti-inflammatory agents and opiate drugs with their many untoward effects. Clearly, a coordination of sensory, spinal and supraspinal systems regulate nociceptive pathways, but our understanding of the integration of these systems participating in chronic pain pathways is quite incomplete.
Current projects include the study of the neurobiology of chronic pain syndromes such as fibromyalgia and related algesic disorders with a CNS component (irritable bowel syndrome, non-ulcer dyspepsia, non-cardiac chest pain). Visceral pain is a present focus of the laboratory, utilizing transgenic murine models to investigate the role of pro-oxidant species and glutamate transporter dysfunction in mediating algesia.  Our focus is on mechanisms responsible for derangements in spinal glutamatergic neurotransmission in neuropathic pain models. Our laboratory utilizes the novel technique of in vivo glutamate voltammetry which provides superior spatial and temporal resolution to address questions surrounding glutamate transporter plasticity that occurs in models of neuropathic pain. We are actively addressing the mechanism of deranged function of this protein essential in maintaining glutamate homeostasis. We have also recently highlighted the potential importance of anti-oxidants as therapy for algesic disorders. Our most recent funded proposal examines a novel transgenic mouse model that is dramatically less responsive to visceral pain. These studies provide novel approaches to dynamically assess the activity of critical components responsible for deranged nociceptive response.
People Filters: